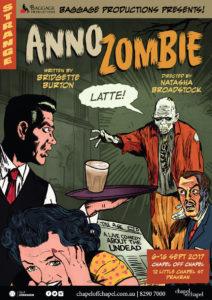 Our full length zombie comedy, "Anno Zombie", is on sale now!

Book here now! Chapel off Chapel
Written by Bridgette Burton and Directed by Natasha Broadstock
September 6 to 16 @ Chapel Off Chapel
The year is now and the situation is desperate. Fairly desperate. The zombie apocalypse has finally come and a group of survivors are holed up in a Melbourne department store. But what are the zombies up to?
Anno Zombie is a comedy about living and dying. And undying. With coffee (it's still Melbourne after all).
Starring: Lauren Bailey, Tiffany Davis, Matthew Dorning, Bruce Langdon, Kelly Nash, Taylor Smith-Morvell, Glenn Van Oosterom and Dan Walls
*Extra special deal available for the preview! Just put in the code BITEOFF to get an $18 ticket!