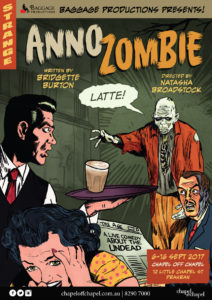 A live comedy about the undead.

In 2017 Baggage Productions will present a comedy that is so funny you will die, and then un-die. Award winning playwright Bridgette Burton brings the zombie holocaust to Melbourne – Coffee, David Jones, dead mariachi's, hipsters with no wifi – it's terrifying for so many reasons.
Cast: Glenn Van Oosterom, Lauren Bailey, Kelly Nash, Tiffany Davis, Dan Walls, Matt Dorning, Bruce Langdon and Taylor Smith-Morvell.
Director: Natasha Broadstock

Season: Chapel off Chapel – 6th September to 16th September, 2017
Watch excerpts here: