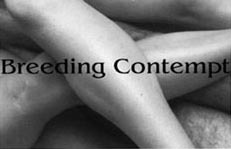 In 2001 the Melbourne Fringe Festival once again loomed, and Baggage Productions got to work again, creating the punchy, fast-paced Breeding Contempt (and Other Mating Games).
The company ensemble was doubled as Baggage took on Rowan Francis and Stephen Shinkfield to lend some testosterone and talent to the proceedings. This sometimes dramatic, frequently hilarious collection of observations on relationships of all kinds was a hit, with sold-out performances every night of the last week.
Hang Tran – Buzz Cuts
"They charmed us with their harmonious songs, they made us laugh with their funny accents, they made us think by telling us about their past relationships, between lovers, friends and family."

Breeding Contempt Redux 2002
On the strength of the success of Breeding Contempt (and other mating games), Baggage repackaged the show – calling it Breeding Contempt Redux and made their Melbourne International Comedy Festival debut in 2002. Heidelberg Theatre was keen to have Baggage back, and so Breeding Contempt enjoyed a third incarnation, at the 2002 Banyule Winter Festival.